Brick Pavers
Despite the availability of other types of pavers, brick pavers remain to be among the popular, if not the most popular, choice in Georgia. Actually, this trend is not just in the Peace State but all over the world that it seems like the world will never get tired of brick pavers.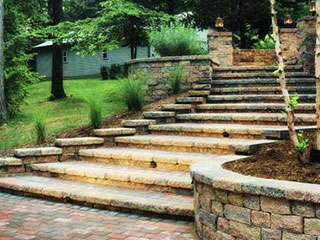 Brick Pavers: Still Popular after Centuries
When the talk is about pavers, brick pavers will always stand out. The classic look of the rectangular, clay or concrete, material is always the top choice since the earliest of days. It has been hundreds of years ago when people were using the clay-made brick pavers. They have been the testament of sophistication since the old days. But why?

Firstly, pavers are durable. Each piece is specially manufactured to last forever. Brick pavers stand out from the rest because they are the easiest to make. In fact, among the first manufactured pavers are brick pavers. No wonder why using the same materials for modern homes automatically give that vintage look. And just like everything vintage, brick pavers are classic- they won't be out of style forever.


The Brick Paver Selections
The only difference between the brick pavers of hundreds of years ago is that those have limited selections. Today, brick pavers come in different sizes and shades. It is even possible to make your customized pattern and palette.

Please browse through our Product Guide section to know your options on brick pavers. Various shades and palettes are available like the Bergerac Paver, Celtik Wall, Dublin Cobble, and Standard Paver. Also see the different possible patterns with brick pavers. We strongly advise that you also check our portfolio. There, you will see how creative we can be with the classic pavers.

Besides more selection, modern brick pavers are also more durable, sturdier, and stronger. If the classic type can last a lifetime, just imagine how long will the modern pavers last.


Different Applications of Brick Pavers
So where can brick pavers be used? Actually, it can be used to virtually any area—retaining walls, driveways, walkways, pool decks, patios, and more. That's how flexible they can be.

Surfaces that bear heavy traffic on a regular basis like the driveway, sidewalks, and walkways are best built with brick pavers. These areas need to have a durable surface and every piece of paver is tough enough to withstand even the heaviest automobile.

Areas that need to look sophisticated like the patios and decks will also benefit from brick pavers because quite frankly, they are elegant to look at. Even surfaces that suffer constant moisture like pool decks and flower beds are best built with brick pavers with impressive water absorption capability.


Brick Paver Installation the Paverscapes Way
While there are other contractors in Georgia, what makes PaveScapes the best choice is that we specialize in hardscapes. We design, install, repair, maintain, improve, and do anything in the field of hardscaping. And working with brick pavers is part of our expertise. Therefore, dealing with us means dealing with a company that is focused on providing excellent hardscape.

For more than 25 years, we have been beautifying Georgia cities with brick pavers. Our tradesmen are fully trained masonry experts. We have also partnered with the best manufacturers in the market. Excellent products coupled with the best masonry craftsmanship will always result to outstanding work. Contact us soon and we'll promptly attend to your needs. Besides brick pavers, other pavers are also available for all hardscape projects.