Outdoor Kitchens & Firepits
The combination of cooking and chatting is an enjoyable thing to do. This is basically why kitchen serves as the favorite place of most families to catch up with each other. So why don't you create the same ambience outside of your home. Create a place where you and your family can the feel fresh air, enjoy sight of a blue sky in daytime and starry sky in the evening. That can be truly relaxing, especially when your outdoor kitchen is matched with a firepit.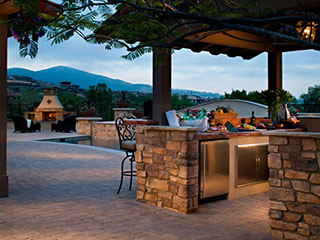 If you wish to give your family a new place to love within your residence, PaveScapes can help you achieve that. We build and install outdoor kitchens & firepits that can make a landscape more spectacular. Homeowners should not worry with regards to the designs and materials we use in the outdoor kitchens & firepits. We offer great designs of outdoor kitchens & firepits that will complement to the existing theme of your home or landscape. More importantly, we ensure the quality of our works by using the most durable materials like pavers and natural stones.


The Beauty and Elegance of Outdoor Kitchens & Firepits
Many people love to stay in their home because of the incomparable relaxation it brings. But the homey feeling you get doesn't have to be limited inside your home. PaveScapes can help you extend this beautiful feeling even when you are in the outdoors. And one way of enhancing your outdoor living experience is by installing outdoor kitchen and firepit in your yard.

The experienced designers of PaveScapes can help you create a new living space outdoors where you and your family can spend your best time together. We make sure that you will not only have a durable outdoor kitchen and firepit but a place where everybody can enjoy and relax. The paver and natural stone materials we use for outdoor kitchens & firepits will surely provide a unique look. Plus the amenities that we can add like dining tables, outdoor refrigerator, outdoor grills, ovens, and bars will improve the functionality of the kitchen.

Our company can either build you a simple or an extravagant outdoor kitchen. Your current outdoor space will not limit us in creating a functional and beautiful outdoor kitchen. Firepits can also be designed and built based on your preferences. A small firepit will suffice for a smaller space while a more complex firepit design is best suited to bigger landscapes.


Outdoor Kitchen and Firepit Builder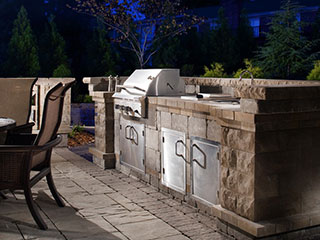 Residents of Georgia and other nearby areas can call us for their outdoor kitchen and firepit needs. We work with customer satisfaction in mind so every client can expect that the outdoor kitchen or firepit that we design and build is of great quality. Our extensive knowledge in using pavers and working on different landscaping projects across the state made us the primary choice of many homeowners.

In our 25 years of experience in serving Georgia clients, we already completed countless projects on outdoor living spaces. This is especially true when it comes to the construction of outdoor kitchens & firepits.