Hardscape Services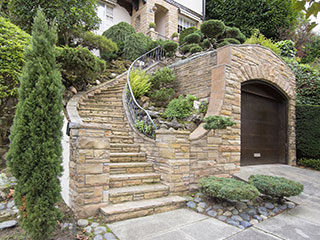 We at Pavescapes cater to customers in and around Alpharetta, Atlanta, Buford, and Chamblee, and have handled landscaping projects for customers in Cumming, Dacula, Decatur, and Doraville. Our expertise has helped us build a solid client base in Duluth, Dunwoody, and the surrounding areas too. The ranges of services we provide include:


Driveway Pavers
Pavers are a great choice for driveway installations. These units are available in materials such as concrete, brick and natural stone. The installation is quick and you get a surface that is resilient, durable and aesthetically appealing. In addition, paver stones are extremely economical and low-maintenance features. We can design and install paver driveways in the style and pattern you want, to enhance the curb appeal of your property. Our experts handle the driveway paver installation expertly and make sure it's stable and strong. Read More About Driveway Pavers »


Patio Pavers
Many homeowners are now choosing to get pavers for their patio spaces. These units look great are durable and easy to maintain and you will find they are easy on your pocket as well. We ensure that high-quality stone pavers are used in the work and the installation process is handled skillfully. Care is taken to choose pavers that complement the look of your landscape and the indoor areas of your home. When we handle the job, you can rest assured that your patio pavers will look great and provide years of trouble-free service. Read More About Patio Pavers »


Stone Pavers
We specialize in providing custom design and installation of stone pavers to residential and commercial services across greater Atlanta. Stone is the ideal material for outdoor spaces because it's weather-resistant, durable, aesthetically appealing and very easy to maintain. We will help you choose stone pavers that are most suitable for your needs, the setting of your landscape and the appearance of the different features there. We offer custom stone paver installation services and our workmanship is covered with guarantees. Read More About Stone Pavers »


Concrete Pavers
Concrete is an extremely resilient material that is commonly used in landscaping projects. Many people prefer concrete paver installations for patios, driveways, pathways, decks poolscapes etc. These features are extremely resilient and long-lasting, easy to maintain and look great too. You can choose from concrete pavers of different colors, shapes, sizes, and textures to create the effect you want on your property. We can also seal-coat these pavers to improve the resilience of the surfaces and make them scratch-resistant. Read More About Concrete Pavers »


One Inch Paver & Coping Overlays
If your existing patio, deck or any other outdoor area is looking dull and dated, you should consider opting for Tremron 1" Remodel Pavers. These concrete pavers have all the qualities of standard thickness pavers but can be installed directly on top of an existing driveway, patio etc. We can design and install these pavers to complement the look of your existing landscape. Since the existing surface doesn't need to be removed, the installation of the 1" pavers is quicker. We can also complete the look of the one-inch pavers using coping overlays in your poolscape. Read More About One Inch Paver & Coping Overlays »


Brick Pavers
Brick has a classic appeal and its little surprise that many property owners still continue to opt for brick pavers against many other newer materials and floor finishes available on the market today. These pavers are available in a range of sizes and shapes, colors and textures and are extremely long-lasting and easy to maintain. This makes them the ideal choice for patios, decks, poolscapes and other outdoor spaces on your property. We use brick pavers of the best quality and make sure the installation is handled expertly. Read More About k Pavers »


Installed Pavers
These pavers are a very popular choice for landscape projects. They are easy to install and come in various colors, shapes, sizes and designs. This means you can create the ambience you want on your property. What adds to the appeal of these materials is that they are extremely durable and don't become damaged easily. Even if they do, it's easy to replace individual units and this reduces the cost of the repair. Whether you want installed pavers for your commercial property or need pavers for the patio on your residential property, we can provide the services you need. Read More About Installed Pavers »


Cleaning & Sealing Pavers
Pavers are a great option for various landscape installations and are popularly used for patios, walkways, driveways, pool decks and more. While pavers are extremely durable and weather-resistant, they have to endure a significant amount of wear and tear. In areas like driveways, they also experience vehicular traffic. The one way to ensure these features stay looking as great as the day they were installed is to get them professionally cleaned and sealed on a regular basis. We use special cleaning agents and pressure-wash these surfaces expertly. The surfaces will then be seal-coated meticulously. This polyurethane coating makes the paver surfaces stain and scratch-resistant. Read More About Cleaning & Sealing Pavers »


Retaining Walls
We provide custom retaining wall design and installation services to both, residential and commercial clients. The Belgard products that we use in these installations are stylish, strong, and durable and complement the look of different types of landscapes. There is a wide variety of retaining wall and block systems to choose from and we can help you find something that suits your needs and fits your budget. Read More About Retaining Walls »


Outdoor Kitchens & Firepits
An outdoor kitchen is a great addition to your home. It becomes the perfect space to cook meals, have BBQ parties and relax and enjoy with family and friends. These features can be built in any area of your yard and many homeowners like to install it on a patio or deck as well. We also handle design and installation of outdoor fire pits. The fire pit will be designed especially for you and we ensure that the feature complements the look of your home and the other elements in the landscape. Read More About Outdoor Kitchens & Firepits »


Concrete Driveway Replacement
We provide custom concrete driveway replacement solutions to residential and commercial customers. These driveways will be designed and installed to suit your requirements and budget. Concrete is a very strong and resilient material and lasts for a number of years. We use the best products and techniques in our work and this ensures you get a feature that will add to the beauty and resilience of your property. The concrete driveway can be stained, stamped, stenciled or colored to suit your requirements. Read More About Concrete Driveway Replacement »

For any more information on our expert concrete driveway replacement solutions, feel free to call Pavescapes at 770-656-8353.If you prefer, you can also send us your requests and project details via this online form.