Cleaning & Sealing Pavers
Pavers are widely used in all parts of the world for different applications like outdoor flooring, retaining walls, driveways, walkways, patios, pool decks, and hardscaping. And most often than not, homeowners are very much concerned on their proper installation to ensure that they will last for years. That is right of course. But minding the proper cleaning and sealing of pavers are equally important so these should not be neglected.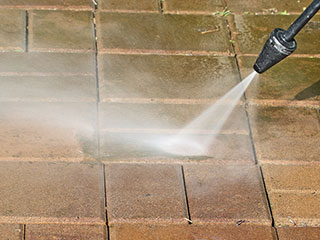 Generally, pavers require little maintenance. However, there are proper procedures that must be followed when cleaning and sealing them. In addition to the proper procedures, there are also proper tools that must be used in cleaning & sealing pavers to keep their brand new look. Should you need paver cleaning and sealing services, PaveScapes is the company you can call. We know the correct and detailed ways of cleaning & sealing pavers wherever part of the house, landscape, or commercial establishment they are installed.


The Need for Cleaning & Sealing Pavers
You definitely don't want to see your pavers worn-out as they will lose one of their main purposes, making your place outstand through the aesthetic appeal they bring. Pavers need to be rejuvenated in order for them to keep their beauty and extend their life. For this reason, cleaning & sealing pavers is necessary.

Cleaning and sealing pavers provides a lot of benefits. They improve the original colors of the pavers. When a seal is created on top of the sand joint that links the pavers, it prevents the sand to be washed away by the rain. Weed is also prevented from sprouting between the joints of the pavers. Sealing can also make the pavers safer from the stains of dirt and oil and make them easier to clean.

Some homeowners ignore the importance of sealing pavers. But if you want your pavers to get its best looks, then you must do it. Other advantages of sealing pavers are the protection it gives to the surface and texture of the pavers.

The intervals of sealing vary. Although it is ideal to be done at least 60 days after the pavers have been installed. The recommended time for resealing pavers is every two years or at longer intervals. If the sealing of pavers is done correctly, the applications can last from two to four years.


Paver Cleaning and Sealing Services
Our team of skilled personnel is very detailed when cleaning pavers. We assure that all dirt build-up including moss and algae will be removed. We use power washers if necessary. Sealing is also performed carefully to maximize its function. The sealing products that we use are industry standard so they are long lasting.

Many Georgia residents trust us in the installation of pavers because of the high level of work efficiency. Of course, we offer the same assurance when we provide our paver cleaning & sealing services. So contact us if you want to keep the welcoming atmosphere in your patio, driveways, walkways, or other hardscape areas. We regard cleaning & sealing pavers to be crucial as these are important elements to keep pavers lasting and beautiful.