Patio Pavers
Patio pavers bring a lot of advantages and benefits. Some of these are durability, easy maintenance, safety features, pro-environmental, and great investment. No wonder why many of Georgia homeowners prefer to use pavers when having an outdoor improvement. And when it comes to building beautiful and durable patios, most Georgia homeowners trust PaveScapes. We provide professional design of patios and installation of patio pavers.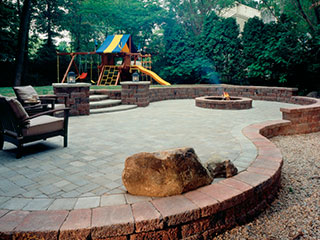 Essentially, the patio pavers designed and installed by PaveScapes are capable of handling heavy foot traffic without requiring a lot of maintenance. This patio paving material is strong and resilient to abrasion and is, in fact, more durable as compared to regular poured concrete surfaces.


Concrete Pavers for Patios
Concrete pavers are more than just attractive; they are also long-lasting and durable. These are the reasons why they are worth considering if you are planning to improve the looks of your patio. Some would say that concrete pavers are not attractive when used as patio pavers. However, this is not true. There are vast selections of design when choosing concrete pavers for your patio. These pavers can imitate the looks of bricks and stones. These can practically come in any design that you can imagine.

The interlocking concrete patio pavers are very valuable as it presents flexible foundation and longevity. And since concrete pavers are interlocked, you can simply replace the pavers when fixing them. Such thing can hardly be done with a concrete slab. The installation of concrete pavers will add more cost in the patio construction. But with the durability and the beautiful sight it create, the cost is all worth it.


Stone Pavers for an Elegant Patio
Install stone pavers on your patio if you feel like it is missing some visual appeal. This type of pavers serves as a simple solution to make your property look dashing. Of course, stone pavers are not only too pleasing in the eyes; they are also long-lasting and durable. This can withstand excessive temperature changes. Another beautiful characteristic of stone pavers is their resistance to water. Stone pavers can easily be replaced when damaged, too.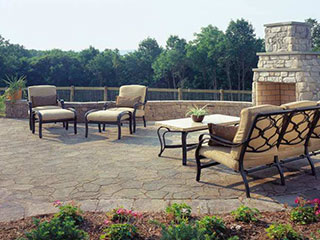 However, installing stone pavers is not an easy task. This must be handled by professionals to avoid installation problems. PaveScapes ensures the quality of the stone pavers installation whether it will be used in your patios, walkways, decks and other areas in the landscape.

You can also play with your imagination with stone pavers as this come in different sizes, shapes, colors, patterns, and textures. Some of the stones you can choose from are limestone, sandstone, granite, and bluestone.


Patio Paver Installation in Georgia
Look no more for other contractors if you are planning to install patio pavers. PaveScapes is the only company in Georgia that you can rely on when it comes to designing and building patios using pavers. This is back up by our decade experience in the hardscape industry. Our qualified team of designers and workers can very well complement your patio pavers to your home's architectural style. We guarantee to bring you a new outdoor living space where everyone can enjoy and relax.